The difference between a lift and a home elevator is in both the design and cost. An elevator has a totally enclosed cab and requires a shaft. A shaft is a wall enclosure that surrounds the cab and the machinery. A lift typically has an open cab, except for 42" panels on the sides of the platform. Lifts are generally more basic and lower cost than elevators. Operation Independence has consulted on and built projects for both private homeowners as well as commercial properties in the greater Boston area. All of the following types of lifts and elevators can be constructed either inside or outside your home.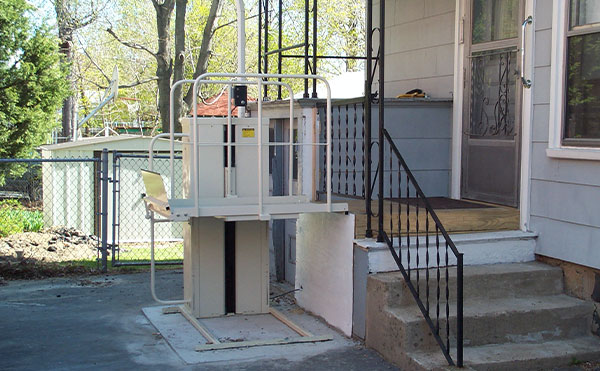 Vertical Platform Lift
Vertical platform lifts are ideal for wheelchair users who need to be transported from ground level to an upper deck entry or up from one floor level to the next. Vertical platform lifts consist of a lift tower, platform, and controls. Lifts can be installed both indoors and outdoors. Vertical lifts are limited to 12 feet of vertical travel, can incorporate up to 3 stops and only require a 6 foot square area of space. They are an excellent alternative to a ramp. Contact us today for a free, in-home assessment.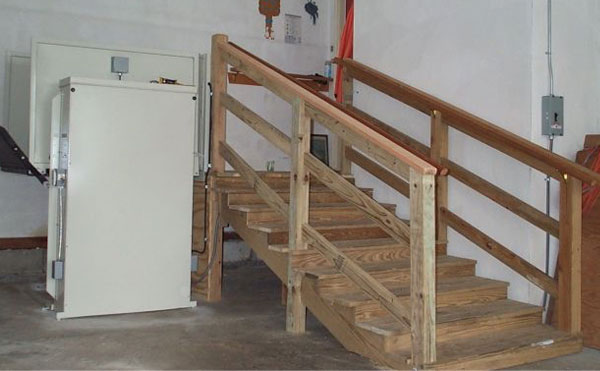 Lifts can be installed inside or outside the home.
Residential Elevator
Residential elevators are used to access 2 floors or more in a home. These elevators require the construction of a shaftway, which completely encloses the cab and all the machinery. In general, residential elevators are capable of carrying greater weight and have larger cabs than lifts. Elevators can also require more site preparation than lifts (e.g. building a pit at base level and/or a machine room).