We are an authorized dealer and service vendor for Handicare Stair Lifts, manufactured by Handicare, USA.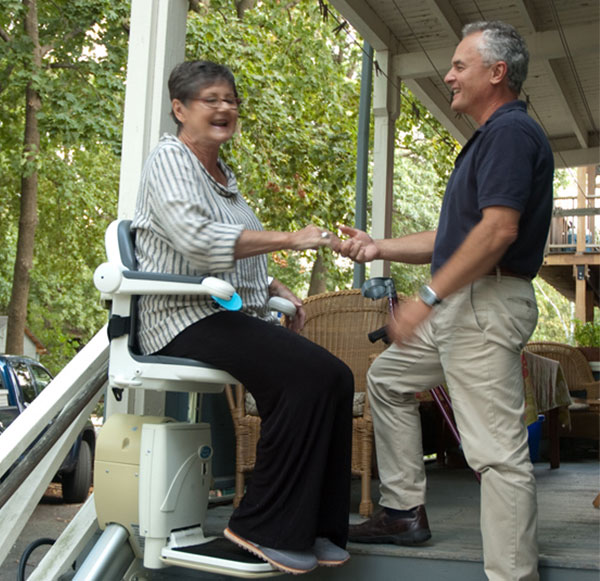 Straight Stair Chairs
If climbing up and down stairs has become difficult or unsafe for either you or a loved one, you may want to consider a stair chair (also known as a stair lift). These devices carry an individual up and down a staircase safely and can mean the difference between being able to stay in your home or finding alternative housing arrangements. Stair chairs can be easily installed on both straight or curved stairways in approximately 4-5 hours.
MODEL 1100 – A safe and cost effective way to overcome the challenge of climbing up your straight stairs. CONTENT FROM HANDICARE.COM
NEW MODEL 1000 – FOR EXTRA WEIGHT CAPACITY AND THE OPTION TO INSTALL OUTSIDE . A safe, stylish and reliable way of overcoming the problem of getting up and down the stairs. Options include: retractable rail, auto swivel seat and auto footrest.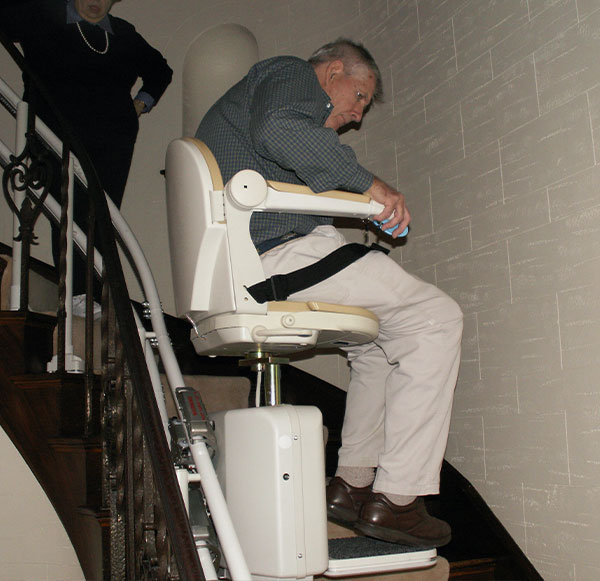 Curved Stair Chairs
Stairs that have an intermediate landing or turns will require a curved stair chair. Operation Independence has installed curved stair chairs on a variety of staircase styles, including a spiral staircase spanning 4 stories. THE SINGLE RAIL "FREE CURVE" IS STYLISH AND QUIET. We can make modifications that no other chair company does such as moving stair rails, adjusting steps, widening doorways and lowering thresholds to maximize access to your home and stair chair. Locally based, factory trained, service technicians ensure prompt response to any questions or repair need.
MODEL 2000 FOR TIGHTER TURNS THIS MODEL OFFERS THE MOST COMPACT TURNING RADIUS IN THE BUSINESS.
CONTENT FROM HANDICARE.COM CLICK ON EACH MODEL TO SEE CONTENT FROM HANDICARE